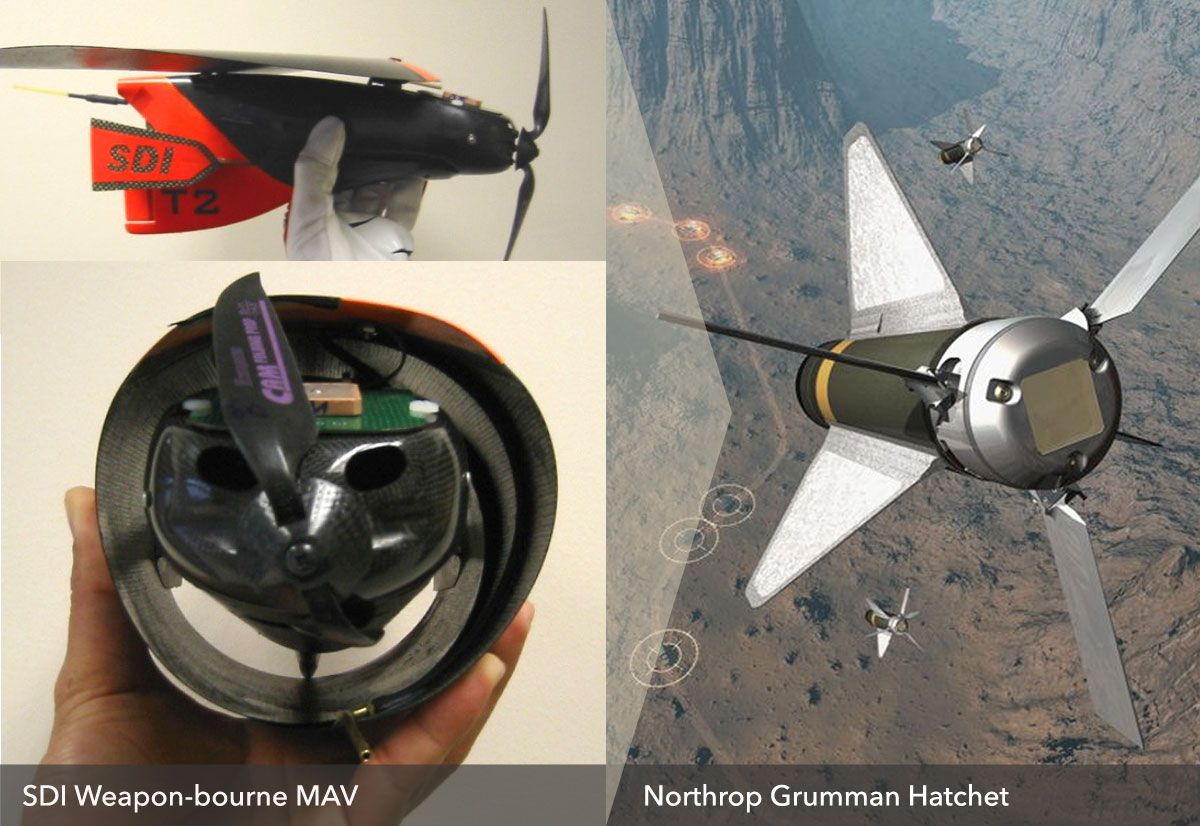 Unmanned Aviation Innovation
A short history of the precision strike munition featuring folding wings developed and built by SDI.
In the early 2000s, SDI was awarded a series of Small Business Innovation Research (SBIR) contracts focused on the development of technologies for Miniature Air Vehicles (MAV) and Micro Air Weapons (MAW). One of these efforts sought an expendable MAV to perform real-time bomb damage indication (BDI). SDI's resulting weapon-borne MAV BDI featured folding, pop-out wings that allowed it to travel folded in a dispenser in the tail assembly of large munitions, such as the JDAM. Several seconds before impact, the dispenser ejected from the tail of the weapon, and the MAV unfurled and took flight. In 2008, SDI's MAV BDI performed successfully in high altitude testing when an inert MK-20 Rockeye carrying the MAV was released from a fighter aircraft at high altitude. The MAV deployed, achieved autonomous stable flight, acquired GPS, and began transmitting video and telemetry data.
In 2012, Alliant Techsystems Inc. (ATK) contacted SDI about using the pop-out MAV wings on their newly developed Hatchet glide munition. Since then, SDI has fulfilled multiple orders for wings tested and flown successfully on the Hatchet. Alliant Techsystems became Orbital ATK in 2015 before Orbital ATK was acquired by Northrop Grumman in 2018. Today, Northrop Grumman has achieved a technical readiness level (TRL) 7 milestone on its Hatchet munition using the pop-out wings developed and still built by SDI.